THE PEPPER MILL – Pepper Teehankee – The Philippine Star
January 12, 2023 | 12:00am
To address the increasing demand for energy efficiency in the heating, cooling and ventilation industry, Midea (pronounced "mai-dia"), one of the world's leaders in cooling solutions, held "Envision the Infinity," where it launched its next-generation Variable Refrigerant Flow (VRF) system in the country at the Crosswinds Resort Suite, Tagaytay City.
Midea provided a detailed presentation of the Midea V8 Series VRF and it's the breakthrough technology that makes it possible to simultaneously heat and cool buildings by using the heat extracted from an area that needs cooling to heat another area. This unique feature has lower installation costs and better installation efficiency.
Midea is also set to launch a new inverter air-con series with higher EER (Energy Efficient Rating) and WiFi functions that generate a strong flow of cool air in an instant. It can also withstand air, rain, and other corrosive elements, as well as purify the air efficiently, thanks to its high-quality coating and energy-saving ECO mode and Super Ionize functions. It also has Smart Diagnosis, which offers easier maintenance via its mobile app.
Because of its groundbreaking solutions and innovation, the Midea V8 Series VRF has received several certifications from Intertek, a leading Total Assurance Quality provider to industries worldwide, and has won the gold prize for its Intelligent Building Energy Solution at the 2022 Special Edition of the International Exhibition of Inventions of Geneva, further cementing the contribution and innovation of Midea Building Technologies' R&D to introduce game-changing developments in this industry.
CMIP general manager Anna M. Alejandro
Accessible healthcare for all Filipinos
Basic healthcare services in the Philippines are now more accessible thanks to leading Health Maintenance Organization (HMO) Maxicare. They recently opened four new Primary Care Clinics (PCCs) in strategic locations across the country.
Maxicare members and even non-members can enjoy a wide range of healthcare services at the PCCs in Solenad Nuvali in Sta. Rosa Laguna, Porta Vaga Mall in Baguio City, Lopues Mandalagan Building in Bacolod City, and Primavera City Condominium in Cagayan de Oro.
While the PCCs offer Maxicare members unprecedented ease in getting much-needed medical services, they are not limited to the HMO's member base. Even non-members can enjoy unlimited consultations and lab tests at the PCCs through the purchase of Maxicare's prepaid health cards, namely Prima Gold, Prima Silver, and E-Ready Advance.
Maxicare members can go to any PCC and complete consultations or lab tests within half an hour without the need for a Letter of Appointment. With an average waiting time of about six minutes, the short wait is made more convenient with free beverages, WiFi access, and charging stations for devices.
All Maxicare PCCs provide over 255 laboratory tests and procedures and are equipped with diagnostic and laboratory test equipment. They have consultation rooms for families, an ENT room, an extraction room for blood tests, a vital signs station with a BMI machine, a radiology station with an x-ray machine, and a heart station with an ECG machine. Patients can consult with primary-care physicians and specialists in Internal Medicine, Pediatrics, OB Gynecology, ENT, Dermatology, Ophthalmology, Psychiatry, Cardiology, and more.
There are now a total of 16 Maxicare Primary Care Clinics open nationwide: (Luzon) Porta Vaga Baguio City, Nuvali Sta. Rosa Laguna, VV Soliven Greenhills EDSA, Eton Centris Quezon City, Northgate Filinvest Alabang, SM City Clark, Ayala North Exchange Makati City, Bridgetowne Quezon City, W City Center BGC, and Double Dragon Meridian Park Pasay City; (Visayas) Lopues Mandalagan Bacolod City, Skyrise Cebu IT Park, Cebu Business Park, and Megaworld Blvd. Iloilo; (Mindanao) Primavera City Cagayan de Oro and Abreeza Mall Davao City. Maxicare also has a Wellness Rehab Center at West Double Dragon Meridian Park in Pasay City.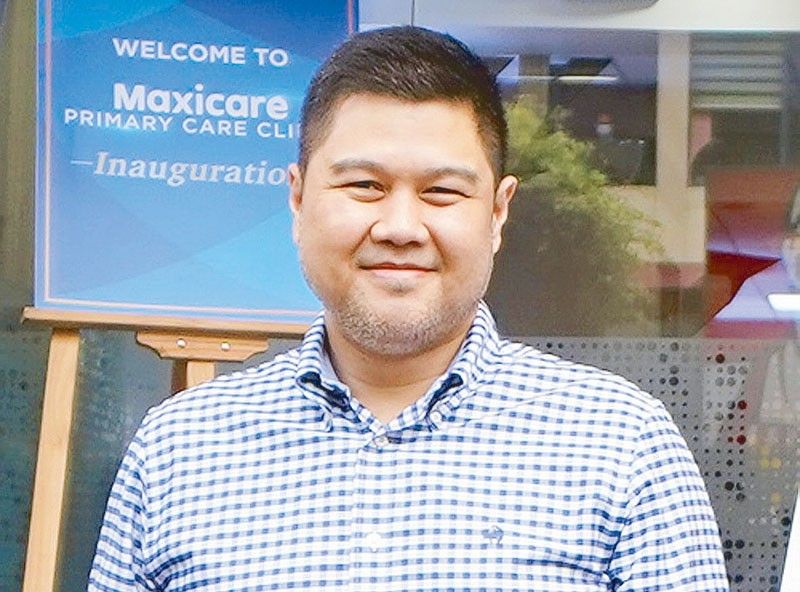 Maxicare CEO and president Sean Argos
* * *
Follow me on Instagram @pepperteehankee.