Every year since the inception of the company, BOSS Services has given away a fully-installed American Standard furnace to a local family as part of their 'Heartwarming Holiday Giveaway'.
Instead of having people enter themselves to win a new furnace, they encourage community members  to pay it forward to someone special in their life who truly deserves to win. This year was no different, as they received nearly 400 nominations from friends and family members telling heartfelt stories about loved ones in need of a new furnace.
This year, they had so many nominations that for the second year in a row BOSS Services owners, Jeff and Jerry Street decided to give away two furnaces to two local families!
Jerry Street explained:
ADVERTISEMENT
Your content continues below
"When we started BOSS Services, we knew that we wanted to give back to the community however we could. We read through hundreds of nominations for our furnace giveaway every year, and it's hard to narrow down just one winner. There are just so many people in the community that give selflessly to others year-round who have needs themselves that go unrecognized. So we give away two furnaces to two people who truly deserve it and really could use one."
The two winners of BOSS's 2021 Heartwarming Holiday Giveaway had almost unanimous votes to win from BOSS's management team. The first furnace winner was Magen Mullen from Galien.  Magen was nominated by her best friend since childhood, Kristy Klingerman.  For the past 16 months, Magen and her husband, Jason Mullen have been dealing with a hardship that is unfathomable for most parents, as their 8-year old daughter, Lily, has been battling an aggressive form of kidney cancer.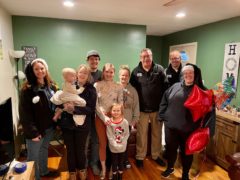 Recognizing the high costs associated with Lily's on-going treatment and a furnace with issues, the BOSS team was more than happy to surprise this family with the news they won a fully-installed furnace.
If you would like, you can contribute to Fight Like a Girl #LilyStrong, a Go Fund Me the Mullen's family friend Kristy established. One hundred percent of the proceeds will be given to the Mullen family towards Lily's medical expenses.   You can donate here: https://gofund.me/0411f8eb
BOSS's second furnace winner was the Olando family. Cellie and Drew Olando from Eau Claire had nearly 20 nominations, with friends and family citing a tragedy that occurred earlier this year when Cellie's brother Damien was critically injured in a car accident and left with severe brain damage.  Cellie and Drew care for him in their home, with help from family members,  to provide Damien with additional care while they work.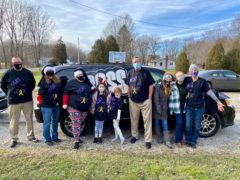 The Olando family recently discovered that they needed to replace their wood stove with a furnace because the stove gives off  smoke through the ducts and is not healthy for their brother's healing.  When the BOSS team surprised the Olandos with the news they had won, the family was overwhelmed with gratitude, both for the furnace and for all the people who reached out to nominate them.
BOSS Sales Manager, Don Manske, who went to surprise both families with the good news commented,
"It feels so good to work for a company that does so much for the community. These families touched our hearts with their generosity and strength in the midst of challenging times. It's the least we could do to give them a new furnace and end the year with some good news."
Boss Services new headquarters facility is located at 2188 M-139, Benton Harbor.
Their website is www.thebossservices.com