Established in 2010, Shenzhen Hongguan Mechatronics Co., Ltd. provides modern Heating, ventilation, and air conditioning appliances.
New York City, New York – For Comfort, Affordability and Durability, Hon&Guan is a modern high-tech company that specialises in the research and development of air replacement, fresh air ventilation, and ventilation equipment. Hongguan provides efficient ventilation and refrigeration solutions for well-known brands in the home appliance, fresh air system, air purification, and communication equipment fields, and Hongguan is leading the way into the era of smart ventilation to better serve various fields' customised ventilation needs. Mixed flow inline duct fans, silent exhaust fans, square duct fans, EC motor exhaust fans, AC/DC cooling fans, and ventilation accessories are among Hongguan's ventilation accessories.

Inline Duct Fans
Established in 2010, Hon&Guan is world renowned for their Inline Duct Fans. The premium quality Inline Duct Fans remove heat and humidity from grow tents and rooms.
They have a variety of Inline Duct Fans which can also be installed in closet systems that house servers and AV gear. Hon&Guan Inline Duct Fans are made to cool and ventilate enormous spaces. Their Inline Duct Fans are leading the Global charts for producing high airflow, functioning normally with minimum CFM loss. Their exclusive Hon&Guan 4 Inch Inline Duct Fan with Wired Smart Controller 141 CFM comes with three-speed engine: NMB ball bearing, more than 50,000 hours of operation.
Watch here: Hon&Guan Quiet Powerful Inline Duct Fans for Ventilation System & Hydroponic Indoor Growing
Exhaust Fans
Poor Ventilation System is a prevalent issue in urban settings. Not only does it cause unpleasant smells to build up in homes but it also causes high humidity causing heat. In addition, homes with insufficient ventilation, contaminants such as dirt, dust, pet dander, pollen, and biological development can be built. Hon&Guan Exhaust Fans are a must have, be it in a kitchen or in a washroom, Any small space that lacks proper ventilation, Hon&Guan Exhaust Fans helps in adequate ventilation. Hon&Guan's 6 Inch 160 CFM Axial Exhaust Fan 110V D-Type which is on sale right now has modern design, manufactured using the silent-clever technology. It can be easily installed, directly mounted into the ventilation shaft and is also suitable for ceiling mounting. The Exhaust Fan range also includes Wireless Smart Sensor Exhaust Fan. Their premium quality, performance efficiency and affordability make them the best Bathroom Exhaust Fans in the world.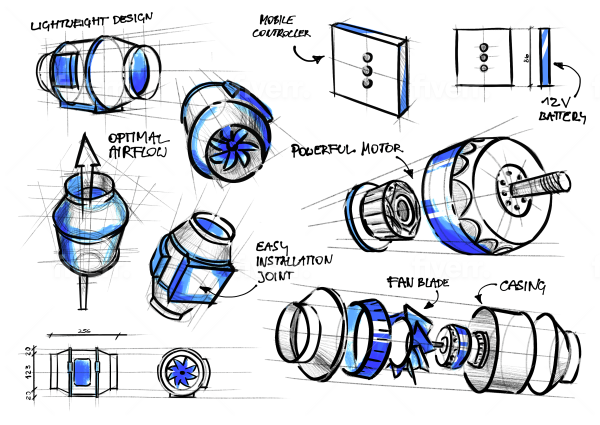 Cooling Fans
Hon&Guan Cooling Fans have a cooling technology that enables them to have a high thermal conductivity, which implies that heat diffuses more quickly across the various components. Hon&Guan Cooling Fans are a great saver, they use a lot less energy than air conditioning, therefore they're a lot less expensive. Generally compared to other cooling equipment, a fan running at high speed consumes less energy than a 100 W light bulb and can save up to 47 percent. Furthermore, Hon&Guan Cooling Fans are extremely cost effective. The Hon&Guan 80x80x38MM DC 12V Axial Flow Cooling Fan delivers high volume air flow with lower noise to facilitate a highly efficient ventilation in enclosed or small areas. The Dual ball bearing allows continuous operation 24/7 without too much dust and high temperature concern, and has a lifespan. Even more, it allows the fans to be laid flat or stand. And there is more! It is easy to install.
Happy Customers
Hon&Guan has many happy customers all across the globe. They prioritise customer satisfaction that has allowed many customers to return to them. One satisfied customer reviewed the experience: "Affordable option. I was looking at a corner fan that was about $40 and, honestly, I couldn't figure out why. I've owned two of the other brands in the past and know the pricier option moves less air, makes nearly as much noise, and has plastic casing. Also, both of the other brands failed too quickly. This fan is affordable, moves quite a lot of air and is made of sturdier materials in a more compact package. What's not to like?"
For more details and information, visit their website. Shop today to avail exclusive discount offers. Use promo code "HG10" to avail 10% on purchases. They offer free shipping on orders of over $100! Subscribe to their newsletter to stay updated about the latest offers and launch of a new appliance. They also offer wholesale for bulk buyers. 
Media Contact
Company Name: Hon&Guan
Contact Person: Saika
Email: Send Email
Country: United States
Website: https://hongguanfan.shop/